Dude Theft Wars Cheats
Dude Theft Wars Cheats
Dude Theft Wars Cheats galore. So if you're looking to get infinite money, weapons, vehicles and more, then here's all the active cheat codes for Dude Theft Wars.
In Dude Theft Wars, players are portrayed as Jack who having discovered that life in Dude-o-polis can get a lot more interesting, decides not to live as a regular dude but rather a vandal.
With this thought in mind, he sets out to unleash mayhem around the neighbourhood by hijacking vehicles, robbing banks and using baseball bats, fists, grenades and what not to fight pedestrians.
The money earned during each mission goes into purchasing a wide array of weapons and just like every gangster games out there, the police are always their to bust lawbreakers.
For one thing, Dude Theft Wars is an open world sandbox simulator targeted at players looking to experience a crossover between Minecraft and GTA. The game albeit a first-person shooter features amazing pixels and violent actions that are intense.
But despite being wacky, fun and hilarious, you'd barely survive each shootout nor will you have enough money to bribe cops once busted. This is where Dude Theft Wars Cheats comes in to play.
They literally simplify the game's overall experience, allowing you to get all sorts of in-game items without grinding. Now without further ado, below's a list of all the currently active cheat codes for Dude Theft Wars and how to enter them.
Dude Theft Wars Cheats
Unlike Grand Theft Auto Series, there are only but a few cheat codes for Dude Theft Wars. But you'd know half bread is better than none. Now without beating around the bush, here's a list of all the working Dude Theft Wars Cheats codes to utilize right now.
Moongravity – Helps you fly like gravity
Giantdudes – Helps you grow like a Giant
Antdude – Makes you small in size, like an ant
Superman – Makes you unbeatable for a few seconds
Heytaxi – Brings cars near you
Dudekong – Explodes the cars nearby
Nosforever – Increases the speed of your car
Suppahotslap – Fires your hand, thereby letting you slap people around you.
Giantdudes – Makes a lot of dudes bigger
Night – Changes the time into the night
Day – Changes the time to Morning.
Evening – Changes the time to Evening
Crowd0-99 – Spawns more or less people
Dudebolt – Let's you run faster than normal
Lockrichie – Resets your riches progress
Gaarhi0-64 – Spawns different types of vehicles
Cashcash99999 – Gives you unlimited money (not working in newer version of the game)
How to Enter Cheat Codes in Dude Theft Wars
The steps to enter any of the above listed cheat codes in Dude Theft Wars is pretty easy and straightforward. So to get this one going;
Simply launch Dude Theft Wars on your mobile phone and click on the Phone Icon visible on the lower left side of the screen.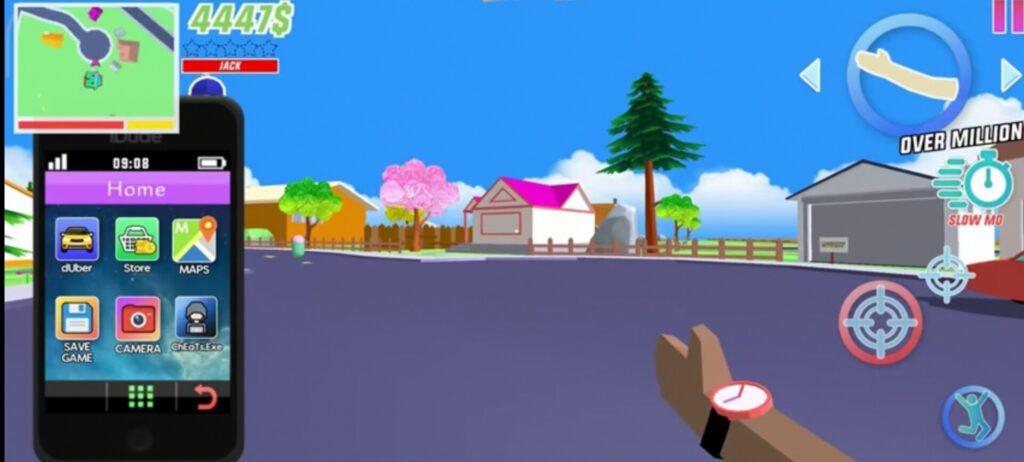 On the next screen, click on Cheats.exe and type in any of the above listed cheat codes in the provided space. Once done, click enter to activate.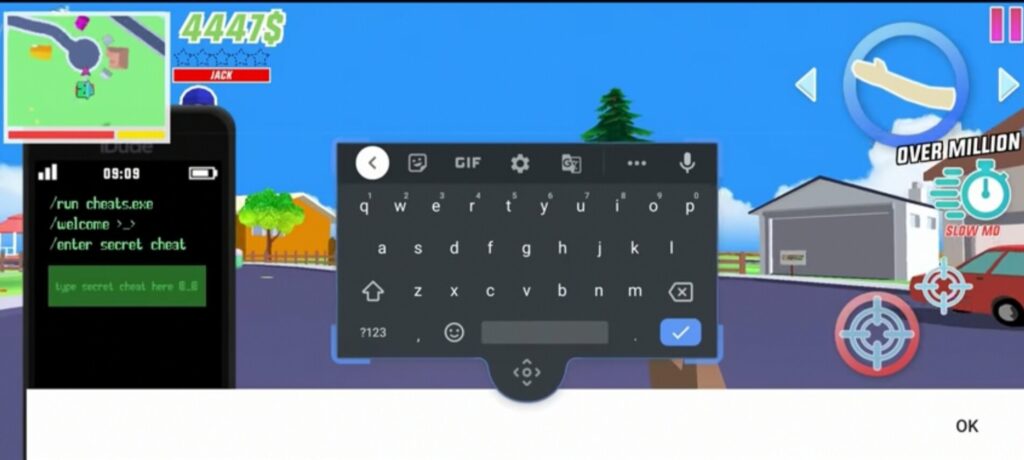 Wrapping Up
Dude Theft Wars is sure a good game and despite featuring pixel-like graphics, it's controls and gameplay mechanics are simply top-notch. The cheats above will go a long way in helping you get away with crime faster and also make you invisible. Overall, happy gaming.