Kahoot Hack: Auto Answer, Bot Spam, Flooder
Kahoot Hack: Auto Answer, Bot Spam, Flooder
Kahoot hack abound. So if you are looking for a working Kahoot answer hack, bot spam or flooder, then we have got a slew of them right here.
Alleged to have over 5 billion active players, Kahoot is arguably the most popular user-generated educational gaming platform right now. Since launch, It has managed to find it's way into many institutions and has been growing rapidly.
It's concept is pretty simple, users jump into the official website at Kahoot.com and once they're done creating a free account, they'll be given the chance to create multiple choice quizzes that they can share on a live dashboard for players to answer within a time limit provided they have the game pin.
Kahoot is really competitive, considering how it shows a leaderboard in real-time. However, if you're dense and probably want to score higher during a Kahoot session, then you are better off utilizing the Kahoot hack listed below.
What Exactly is Kahoot Hack?
Cheaters always win they say, and this statement has been proven numerous times to be true especially in video games. For the uninformed, Kahoot hack is simply a way to flood a Kahoot! session with bots.
There are a plethora of tools that can help with that and even though most of them no longer work, we managed to get our hands on the active ones. So if you are the type who do not fancy losing, then here's one kahoot hack to utilise right now.
1. Kahoot Bot by Sean-3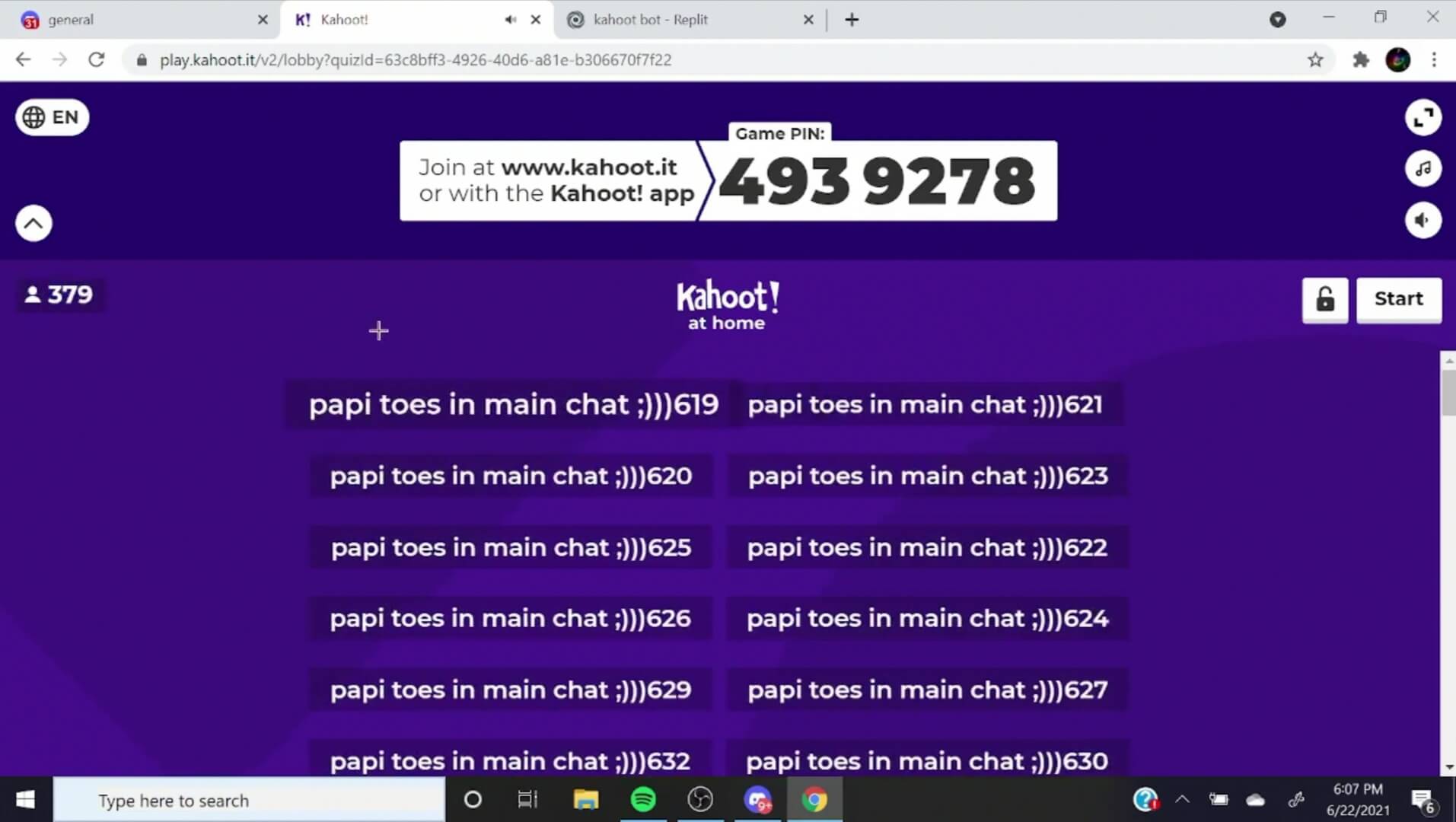 Replit has always touted itself as the first fully online multiplayer computing environment where users can kick-off their coding journey with minimal preparations and zero downloads.
With over 50 programming languages, a slew of programmers have taken to the platform to build handy tools right within their browsers and one such software that was developed to simplify the life's of Kahoot users is khoot bot by sean-3, a fork from lkyghiugh's original kahoot hack tool.
Created on March 4, 2021, Khoot Bot by Sean-3 is arguably one of the working Kahoot hack tool out there on the Internet. It brings simple user interface, with the ability to flood a Kahoot! session with up to 2,000 bots bearing random names.
The goal of these bots as you'd guessed is to answer any of the questions that pops up on the screen even if they aren't 100% accurate. Consider them as the perfect Kahoot auto answer bot.
Also Checkout: The New Kahoot Winner
When you navigate to tresh111 khoot bot spam tool, you'd see how it stands out with python. The tool is pretty intuitive per se and even the most inexperienced can grasp how it works in no time.
To utilize it, you'd need to start out by clicking the "Play" button on the screen. From here, you will be asked to press the "Enter" key on your keyboard to continue.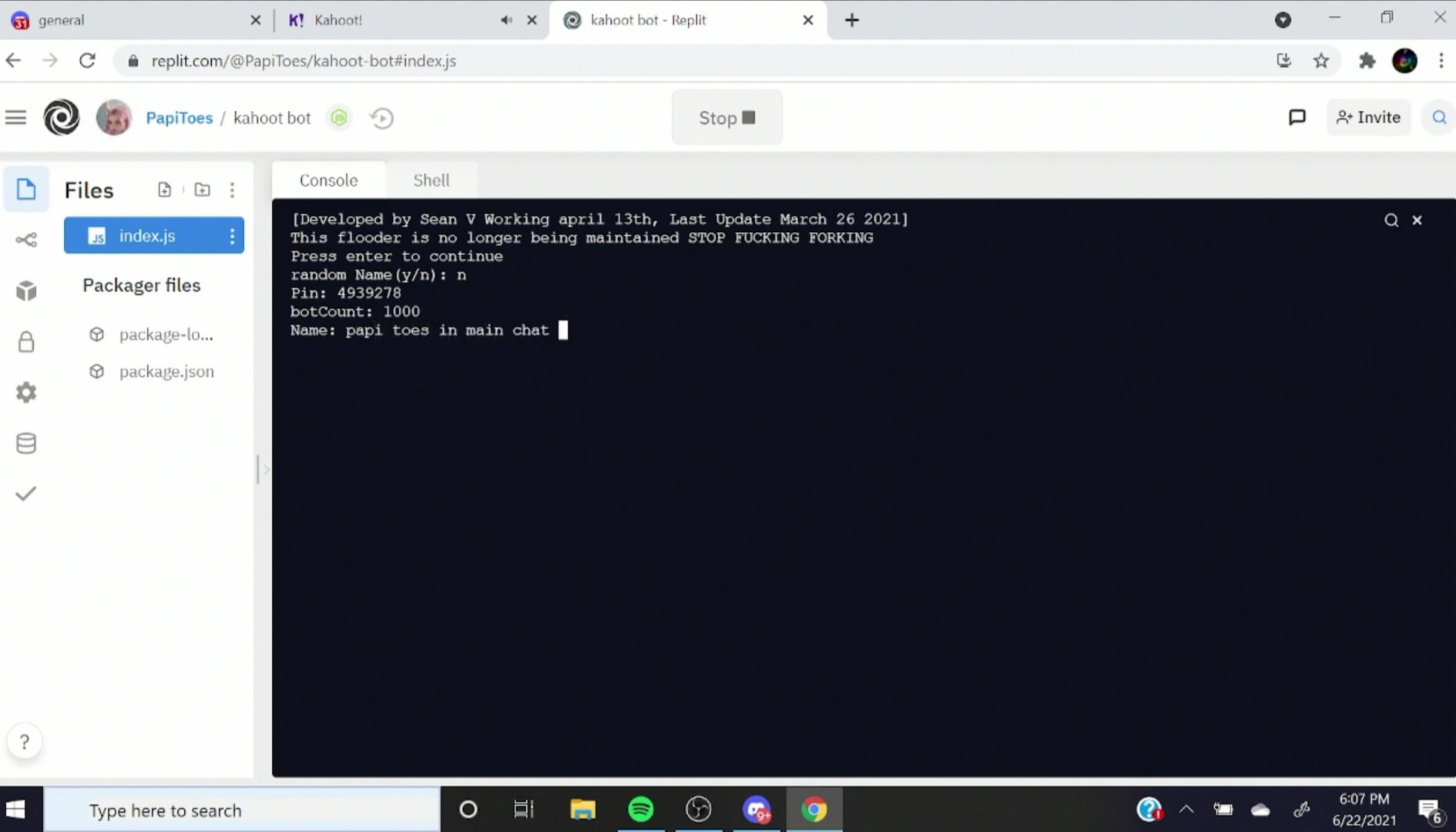 Once done, simply choose "Yes" or "No" once it prompts you to use random names, then input your Kahoot game pin next to the text found within the container followed by the number of bots you want to spam and the name you want your bots to bear.
With that done, go ahead jump into the Kahoot session and witness the wonder of this tool.
Other Kahoot Hacks
From Kaspammer to Mem-Rip, Kahoot Rocks and more, there are literally a dozen of Kahoot bot spam tools out there on the Internet, but it is quite unfortunate that they rarely work.
However if you're looking for an extended list of the best Kahoot hack tools that you can rely on, then here's the ones we can vouch for.
So these are the currently working Kahoot hacks to utilize right now. Go ahead and flood that kahoot session with multiple bots that are capable of answering random questions automatically.
Wrapping Up
In a bit to ease the stress of those looking for how to hack Kahoot and the best Kahoot hacker out there, we came up with this article. As we said earlier, a lot of programs have been developed to help spam or flood a Kahoot session, but many of them no longer work.
The ones listed above sure works and we'd hope you try them out and do not forget to drop a positive comment right below.