Roblox Mod Menu: Fly, Infinite Jump, Noclip and More
Roblox Mod Menu: Fly, Infinite Jump, Noclip and More
Roblox Mod Menu galore. So if you're looking to get special abilities such as speed hack, 1,000 Robux, invincibility and more in any of your favorite 3D experience, here's the only Roblox mod menu APK to install right now.
Ever heard of the platform which grew from complete obscurity into a gaming juggernaut, culminating millions of dollars yearly? Nope it isn't Minecraft, and Fortnite doesn't even come close. We are talking about Roblox, the latest craze that has engulfed almost half of the kids in the United States.
With its multifaceted nature, Roblox popularity spurred thanks to the recent pandemic and while so many kids are stuck playing at home, a slew of adults have sought alternate income by developing a variety of content on the platform.
Now for the uninformed, Roblox isn't a traditional video game. Rather it's a platform that hosts creations built by users using the game's studio. In other words, Roblox is a massively multiplayer online game creation platform where you can play or create 3D games for others to enjoy.
When you download the official Roblox app on your device, you'd be greeted with millions of minigames that you can select and play and the best part is that they're completely free-to-access except for some in-app purchases or gamepasses which requires Robux.
Now while the vanilla version of Roblox app comes feature-rich, it still lacks a plethora of perks that could have made it the ultimate gaming app for Kids. This is where Roblox MOD MENU comes in to play, a modded version of the original game that's utterly generous.
Roblox Mod Menu
The general rule of thumb is if Minecraft has mods, then Roblox should too. If you have been looking for a client-side Roblox mod that can modify the game's core files, allowing you to get stuff such as better shaders, graphics and more, then we're deeply sorry to say that there aren't any since the game is a lot more closed-in.
Fortunately, Roblox mod menu can serve as an alternative and we can vouch that it's the most complete and must-have hack mod for Roblox. Now if you're wondering what Roblox mod menu is, read on as we unravel everything.
What is Roblox Mod Menu?
At its core, Roblox MOD Menu is simply a modded version of the original Roblox app that includes a floating icon which when tapped reveals a menu with different options that you can painlessly configure for your games.
With the app, you can enjoy special features that can help you gain unfair advantage. From X-Ray vision to flying, you'd get the ability to see through walls, jump higher and even do all sorts of amazing things without fear of being banned.
Roblox Mod Menu Features
With no demand for root or obb file, the Roblox Mod Menu we are about to share below is truly generous, virus-free and works perfectly too. Below is every single features it brings to the table.
Infinite Jump
Fly
Noclip + Air Walk/Wallhack
Escape Prison
Set Jump Value (Spinner)
Ragdoll V.1
Ragdoll V.2
Ragdoll V.3
Noclip
Bunny Hop
Different Walking Animation
Fly/Unlimited Stamina
Climb Mode
Snake Mode
Teleport Up
Light Respawn
No Walking Animation
Underground
Teleporting
Infinite Jump/Infinite Stamina
Slim Body
Cannot Destroy My Body
No Chest
No Arms
No Legs
Freeze Camera
Letters (spinner)
Dark Mode
More Lights
Change Map Color
Chams
See Through Walls
Speed Hack
X-Ray 2D
Night Mode
God Mode/Ghost Mode
Line Sky
Effects on Map
Rotation Speed
Normal Chams
Wireframe Chams
Chams Red
Chams Green
Chams Blue
Chams Alpha
Drunk Mode[NEW]
Draw Crosshair[NEW]
Design Maker
How to Install Roblox Mod Menu
Now if you are already itching to get your hands on the newest Roblox mod menu out there, simply follow the below guide to properly install Roblox mod menu on your Android phone.
To begin with, head over to the following URL and download the latest version of Roblox Mod Menu APK.
https://www.mediafire.com/file/zhfz8eacygo1c8t/Roblox_2.593+Mod+Menu.zip/file

Password: SAMl84
Once downloaded, navigate to your device Setting -> Developer Options and from here, enable Installation from Unknown Sources.
Once that is done, go ahead and install the Roblox Mod Menu APK.
Open it once the installation process is complete and grant permissions if prompted.
Now login with your Roblox account and then click on the floating icon located at the top right corner of the screen.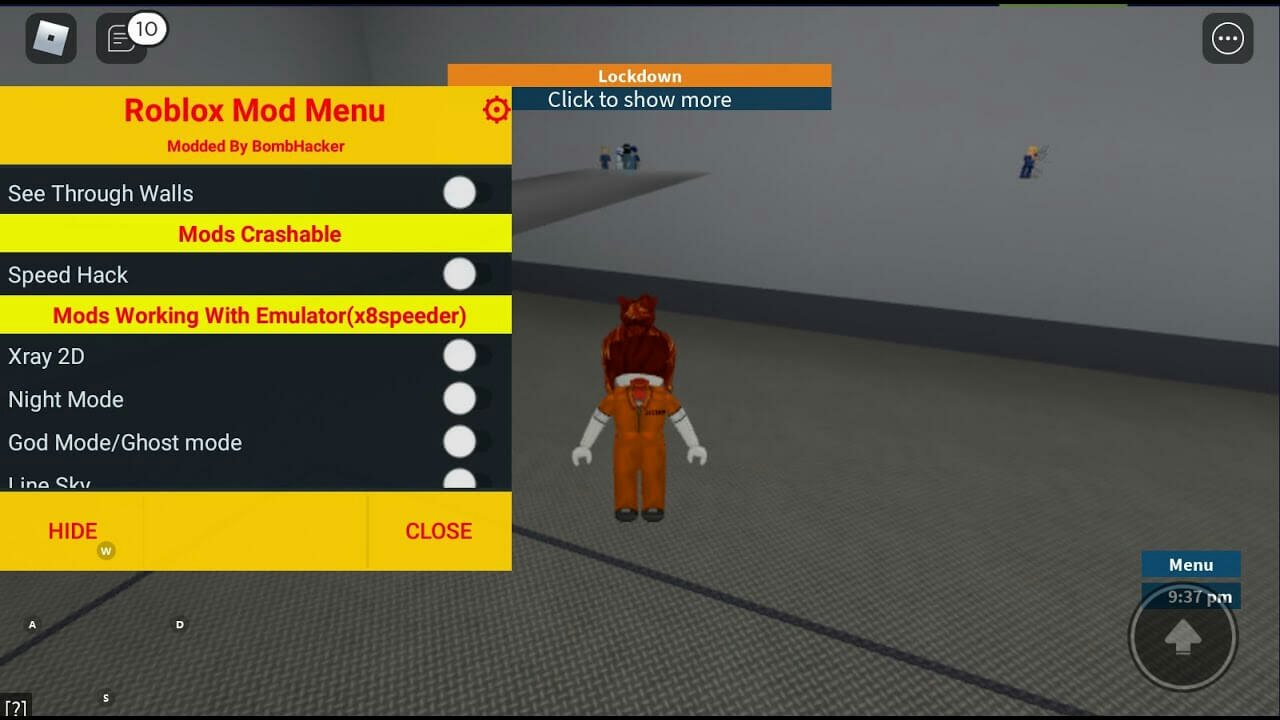 This will instantly bring up the Roblox Mod Menu, go ahead and launch any game visible on the app and then fiddle with the options found within the Roblox Mod Menu.
Wrapping Up
We are aware of the plethora number of Roblox MOD Menu out there on the web, but we'd like to inform you that most of them are fake and even if you come across something that works, they'd be hidden behind a URL shortner that often task you to complete surveys or even download random games prior to getting the app you want. This process isn't worth it at all and that's the major reason we shared a direct download link of Roblox MOD Menu APK. So go ahead and enjoy your game.